Pediatric Medicine Board Review Podcast- Created by Residents Weekly episodes are brief cases with accompanying discussion about the pertinent points. Then the cases' answer choices are reinforced on social media throughout the week. Each month has a unifying theme for the cases (Infectious Disease, Newborn, Cardiology, etc.), and each month ends with a review episode running through the high-yield takeaways from the month's cases. Good luck studying, and we hope to see you soon!
Episodes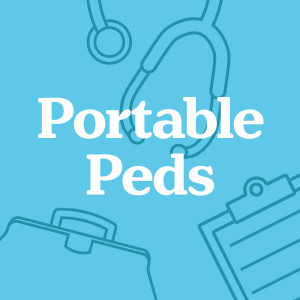 Sunday Nov 14, 2021
Sunday Nov 14, 2021
Today we're discussing the basics of Osteopathic Medicine! We'll cover plenty of topics, including:
-What is a D.O.?
-What is OMM?
-Basics of OMM billing and coding
-Evidence-based medicine for OMM
And more!
***We just launched a VERY short, anonymous survey to get YOUR listener preferences when it comes to medical education in the virtual space and podcasting. This survey shouldn't take longer than a few minutes, and it would mean the WORLD to us. You can find the link below and on our social media. Thanks again for your feedback and contributions, and Happy Studying!
Active Survey Link: https://qfreeaccountssjc1.az1.qualtrics.com/jfe/form/SV_bdUIxM57dssT7Uy
Follow the podcast on social media:
Facebook- @portablepeds (www.facebook.com/portablepeds)
Twitter- @portablepeds (www.twitter.com/portablepeds)
We'd love to hear from you via email at portablepeds@gmail.com!
Also, feel free to visit our website, www.portablepeds.com, for more content.
We would like to give an enormous thank you to Zack Goldmann for designing this podcast's logo and accompanying artwork. You can find more of his work at www.zackgoldmann.com.
The intro and outro of this podcast is a public domain song obtained from scottholmesmusic.com.
Intro/Outro- Hotshot by Scott Holmes
Disclaimer:
This podcast is intended for healthcare professionals. The information presented is for general educational purposes only and should NOT be used as professional medical advice or for the diagnosis or treatment of medical conditions.
The views and opinions expressed do not represent the views and opinions of our employer or any affiliated institution. Expressed opinions are based on specific facts, under certain conditions, and subject to certain assumptions and should not be used or relied upon for any other purpose, including, but not limited to, the diagnosis or treatment of medical conditions or in any legal proceeding. Full terms and conditions can be found at portablepeds.com.
Thanks for listening! As always, please Rate and Review this podcast on Apple Podcasts, Facebook, or your favorite podcasting platform. Also, Subscribe to get all the latest episodes, and Share this episode with someone you think would enjoy it! Hope to see you real soon!